Fostek Research & Development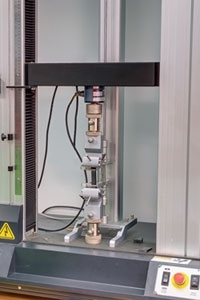 The Fostek research and development team is deeply experienced with over 40+ years of developing and manufacturing rubber and plastic blends of engineered foams. We recognize our entire process/manufacturing and quality group as an integral part of "R&D" and new product development at Fostek. Because of this, transitioning a newly developed product onto the manufacturing floor with success is a challenge that we execute well. This deep cross-department experience and proven ability provides customers with a focused resource, dedicated to listening to the customers' needs. Developing and understanding a specification as well as an economic target is paramount for Fostek to be able to deliver the product that will perform very well in the targeted application.
While a minimum sales dollar target needs to be met to take on the development of a new product, the Fostek research and development team emphasizes listening to the customer to determine what it is that they are searching for if they do not have a defined, formal written spec available to present. Once the customer and Fostek have an agreed upon outline of what is needed for a new product, formulas are developed and lab work begins.
After identifying a target specification and an economic budget, a review of current products that Fostek offers is done to see if we have anything close to the desired product. If it is possible to use an existing product's production base formula and manufacturing process technology, we can often shorten the time it takes to get to a product.
Fostek research and development utilizes our full development, pilot production lab to do the initial trials and testing. This includes all the equipment necessary to run small trials and make adjustments to formulas as necessary in a shorter time period. Our ongoing commitment to research and development ensures that we continue to improve and optimize our processes, identify new variables and bring them under control, improve the physical properties of our products and reduce costs for our customers.
For inquiries about Fostek research and development, please contact us at 574-284-1000 or
click here
to contact us today!

Fostek In The Community / News
Congratulations to Anna Grohs, Miriam Ramos-Rosales, Caleb Grohs, Emily Neel.
A magnificent backdrop & crisp fall morning set the scene for the 3rd Annual National D-Day Memorial Golf Classic.
The 2nd annual Golf Classic to benefit the National D-Day Memorial was held at the Omni Homestead.
The inaugural National D-Day Memorial Golf Classic drew overwhelming support.
The Large Business of the Year award is given to a company of 51 or greater employees that has made a significant contribution to the growth of Bedford.

Member of the Bedford Area Chamber of Commerce since May 17, 2010.