National D-Day Golf Classic Sees Substantial Growth in Second Year 2016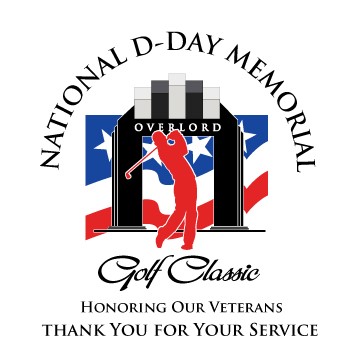 Golf Classic Sees Substantial Growth in Second Year
2016
The 2nd annual Golf Classic to benefit the National D-Day Memorial was held September 25-26 at the Omni Homestead in Hot Springs, VA.
The event kicked off with a practice round on Sunday, a welcoming reception Sunday night, and the Golf Classic on Monday, played on the award-winning Cascades Course. Retired Virginia Tech Hokies Football Coach Frank Beamer participated as a special guest. All who attended had the opportunity to meet and have their photo taken with the Coach as well as participate in an auction to win autographed memorabilia.

The opening ceremony on Monday included recognition of two WWII veterans, Bobbie Johnson and Dan Villarial, as well as a special flag-raising ceremony with music by the Bath County High School Band. Everyone then gathered around the #1 tee box, including the resident turkeys, to watch as Coach Beamer took the ceremonial first tee shot to get the tournament underway. At the end of the day, a team score of 60 captured the first place win for Burruss Properties, Inc. Finishing in second place was Team Childers, and in third place was Bank of the James. The event drew 96 players this year (up from 66 last year), and netted more than $16,000 in support of the Memorial. The Foundation wishes to thank the following team and contest sponsors for their generous support of the event: Fostek, English Meadows, Subway, Bankers Insurance, Burruss Properties, Inc., National Pools of Roanoke, Sonny Merryman, Inc., H&R Pest Control, Coleman Adams Construction, Bold Rock Hard Cider, Ameriprise Financial (Lee Brooks), and Black Dog Salvage. There were also more than 30 hole sponsors this year.

Planning for the 2017 Golf Classic has already begun. Dates for the third annual Golf Classic will be September 24-25 at the Omni Homestead Resort. Call (800) 351-DDAY or email dday@dday.org for more information.


Fostek In The Community / News
Congratulations to Brad Grohs, Emily Neel, & Caleb Grohs!
A magnificent backdrop & crisp fall morning set the scene for the 3rd Annual National D-Day Memorial Golf Classic.
The 2nd annual Golf Classic to benefit the National D-Day Memorial was held at the Omni Homestead.
The inaugural National D-Day Memorial Golf Classic drew overwhelming support.
The Large Business of the Year award is given to a company of 51 or greater employees that has made a significant contribution to the growth of Bedford.

Member of the Bedford Area Chamber of Commerce since May 17, 2010.