Harry Schickling Scholarship Awarded 2021!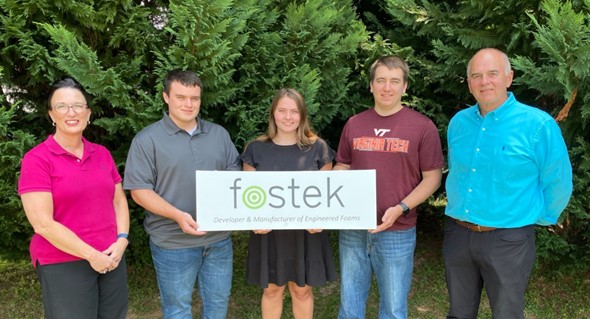 Fostek Corporation recently awarded scholarships to local Virginia Tech students. Pictured from left are
Lisa Arthur (Fostek HR), Brad Grohs, Emily Need, & Caleb Grohs, Phil Foster (Fostek President/CEO)


Fostek Corporation created the Harry Schickling Scholarship in 2014. It carries on in memory of Harry, an honorable family man, Christian, veteran, engineer, and proud American patriot , and a truly loyal Bedford citizen,

Harry and Fostek wanted to assist students interested in furthering their education /training in manufacturing and technology. In the latter part of his business career, Harry was an executive at Fostek Corporation, a Bedford manufacturing company formed in 2004. While there, the idea was hatched that Fostek would help local students focusing in areas of skills needed by local companies.

After Harry's passing, Fostek initiated this scholarship in his name to provide an incentive to students in the hope they would stay or return to Bedford, finding good careers in local companies. Fostek Corporation CEO, Phil Foster has awarded the following Virginia Tech students the Harry Schickling Scholarship for the Fall Semester of 2021; Brad Grohs, Emily Need, and Caleb Grohs.

We congratulate them and wish them much success in their future careers.


Fostek In The Community / News
Congratulations to Brad Grohs, Emily Neel, & Caleb Grohs!
A magnificent backdrop & crisp fall morning set the scene for the 3rd Annual National D-Day Memorial Golf Classic.
The 2nd annual Golf Classic to benefit the National D-Day Memorial was held at the Omni Homestead.
The inaugural National D-Day Memorial Golf Classic drew overwhelming support.
The Large Business of the Year award is given to a company of 51 or greater employees that has made a significant contribution to the growth of Bedford.

Member of the Bedford Area Chamber of Commerce since May 17, 2010.