Latest Foam Products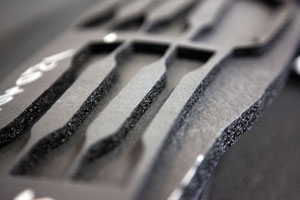 New products are often the fuel for a company's growth. This has been the case with our foam products over the past few years at Fostek. New product ideas and specifications come directly from our customers and prospective customers. The ideas for each of our newest engineered foams has come directly as a result of the input and interactions with our customers. The dialogue, exchange of ideas, trust, and confidentiality of those customer interactions are critical to the success of the development of any new product.
At Fostek, we focus on the specific performance requirements of each desired application. We work with our customers to reach a mutual understanding of factors such as polymers, density ranges, compression deflections, and annual volume potential, along with economic targets before we undertake the development work. The 3996 foam product family is manufactured utilizing our proprietary technology in continuous roll process technology.
Successful examples of new product developments are found in our type "3996 family" of lower density, semi-closed cell, and super soft EPDM foams. The goal for these foam products was to improve the performance requirements while updating the technology of older formulas, resulting in significantly lower costs. This was and continues to be a very successful new product line for Fostek and our customers.
Another example of a new Fostek product is our higher density semi-closed super soft EPDM foam. This is our type 8996.8 (approximately 8 pounds per cubic foot). The 8996.8 is manufactured utilizing our proprietary in continuous roll process technology.
We are proud of innovative foam products that use our engineered technology profiles, such as our unique polymeric blend of a compounded formula nitrile rubber/PVC and other proprietary ingredients which produces a high density closed cell foam of approximately 20 pounds per cubic foot. Fostek engineered and designed the die for a profile shape that has a gauge range of 1/8 inch up to 1 inch thick across a 12 inch width of a product that is manufactured utilizing our proprietary in continuous roll process technology.
Fostek is committed to continued innovation in developing new foam products that meet our customers' needs. For more information, or to discuss your specifications, please call our sales office at 574-284-1000 or
click here
to contact us today!

Fostek In The Community / News
Congratulations to Brad Grohs, Emily Neel, & Caleb Grohs!
A magnificent backdrop & crisp fall morning set the scene for the 3rd Annual National D-Day Memorial Golf Classic.
The 2nd annual Golf Classic to benefit the National D-Day Memorial was held at the Omni Homestead.
The inaugural National D-Day Memorial Golf Classic drew overwhelming support.
The Large Business of the Year award is given to a company of 51 or greater employees that has made a significant contribution to the growth of Bedford.

Member of the Bedford Area Chamber of Commerce since May 17, 2010.