Foam Fabricators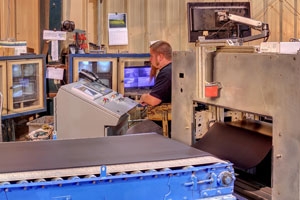 The foam fabricators at Fostek are a trusted source of quality plastic and rubber blended, closed and semi-closed cell foams manufactured for a variety of industries. Our capabilities include manufacturing closed-cell foams (in rolls and custom profiles) from multiple combinations of plastic and rubber blends of EPDM, PVC/Nitrile Rubber, and Neoprene blends.
We have earned a reputation among foam fabricators for providing foam solutions for automotive, industrial, and construction applications, as well as for athletic and anti-fatigue mat products. Whatever the application, Fostek foams are manufactured and tested for superior performance and endurance for very demanding environments and conditions. Properties such as moisture sealing, UV and temperature resistance, NVH control, outstanding cushioning, and shock absorption make our foams the choice for numerous applications in which specification adherence, "lot to lot" consistency, and reliable quality is of the utmost importance.
Fostek's facilities and processes are IATF 16949:2018 certified to ensure the highest quality products for automotive related products as well as the rest of our family of non-automotive products that are produced in exactly the same documented process.
Customers also rely on the foam fabricators at Fostek for their custom foam and profile needs. Our team of experienced chemists and technicians are skilled in producing formulas targeted to a broad range of required specifications and new requirements.
For information on some of our most widely used industry applications, please view the individual industry pages on our drop-down menu. We are happy to answer your questions or discuss the possibility of developing custom foam profiles for new applications. Please call us at 574-284-1000 or
click here
to contact us for more information.



Fostek In The Community / News
Congratulations to Brad Grohs!
A magnificent backdrop & crisp fall morning set the scene for the 3rd Annual National D-Day Memorial Golf Classic.
The 2nd annual Golf Classic to benefit the National D-Day Memorial was held at the Omni Homestead.
The inaugural National D-Day Memorial Golf Classic drew overwhelming support.
The Large Business of the Year award is given to a company of 51 or greater employees that has made a significant contribution to the growth of Bedford.

Member of the Bedford Area Chamber of Commerce since May 17, 2010.