EPDM Sponge Rubber Foams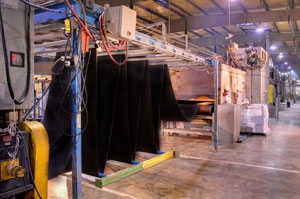 EPDM sponge rubber foams make up one of the polymeric categories of engineered foams that Fostek develops and manufactures in our IATF 16949:2018 certified production facility in Bedford, Virginia. EPDM is the acronym for ethylene propylene diene monomer rubber. This synthetic rubber is sometimes blended with other materials and is often used in areas requiring higher performance physical properties with respect to heat, ozone, and weather resistance.
EPDM sponge rubber foams, in either closed cell OR semi-closed cell form, have become more widely used in the automotive industry in an effort to meet worldwide material standards in new and existing applications. Fostek's proprietary EPDM foam technology has driven it to the forefront of becoming an excellent candidate for applications previously dominated by "cast PVC" foams or other semi-closed cell EPDM or PVN foams. Our EPDM foams are used for windshield seals, automotive shields that provide both moisture barrier properties and acoustic benefits, NVH functions, seals, gaskets, and a wide range of other unique applications. Certain EPDM foam products are being utilized in the appliance, HVAC, electrical and building industries.
Fostek has developed a proprietary technology for our diverse family of EPDM sponge rubber foams in the super-soft and ultra-soft as well as closed-cell categories. These foams deliver outstanding physical properties, mechanical performance, wider functional temperature ranges, and compatibility with wide varieties of pressure sensitive adhesives. Fostek's EPDM foams also possess a high process capability which allows our products to meet or exceed automotive and non-automotive specifications in certain applications.
These super soft, conformable EPDM sponge rubber foams are available in custom profile shapes, as well as in sheet/roll form. Acrylic, rubber, butyl tape and other pressure sensitive adhesives (PSA) can be applied to some of these products to meet customer specifications for the high adhesion performance.
Our EPDM foam offerings include semi-closed cell super soft and ultra soft foams; closed cell foam, and custom foam blended products. For more information on Fostek's EPDM foams, please view the pages in our drop-down menu. We are happy to answer any questions you may have, or discuss the specifications for your application.
Contact our sales office by phone at 574-284-1000 or
click here
to contact us.

Fostek In The Community / News
Congratulations to Anna Grohs, Miriam Ramos-Rosales, Caleb Grohs, Emily Neel.
A magnificent backdrop & crisp fall morning set the scene for the 3rd Annual National D-Day Memorial Golf Classic.
The 2nd annual Golf Classic to benefit the National D-Day Memorial was held at the Omni Homestead.
The inaugural National D-Day Memorial Golf Classic drew overwhelming support.
The Large Business of the Year award is given to a company of 51 or greater employees that has made a significant contribution to the growth of Bedford.

Member of the Bedford Area Chamber of Commerce since May 17, 2010.