Custom Rubber Profile Extrusions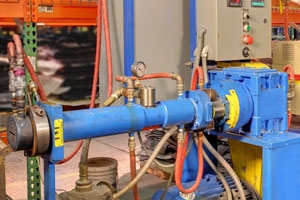 Fostek currently produces and has the capability to develop custom rubber profile extrusions produced from most of the foam formulas that we manufacture in roll/sheet form. The experienced professionals at Fostek have the proven ability to "tune in" a foam for the customer's specific application.
This includes the unique capability to produce crushed/soft foam profiles. Our polymer blends of EPDM and Vinyl/Nitrile are the two most common materials requested in profile form. We possess the in house capability to design the dies necessary to produce the desired end product shape and dimensions within the normal and customary parameters for cellular foam profile shapes.
In addition, acrylic, rubber, butyl tape and other PSAs (pressure sensitive adhesives) can be applied to our custom rubber profile extrusions to meet customer specifications for high adhesion performance. In some cases a "dual" or tandem profile is produced with a PSA applied to one side and then perforated to allow the "dual" profile to be separated into single strands.
We have created custom profiles for applications as diverse as "IP (instrument panel) bulb seals", windshield seals, large storage tank seals, railroad car door and top lid seals, bumper pads, and more.
We are happy to provide more information and discuss particular shape requirements at any time. For example shapes of custom foam profile extrusions we have produced, please contact our sales office by phone at 574-284-1000 or
click here
to email your request.
When working with customers on developing custom rubber profile extrusions, we take the time to listen and understand their needs based on the application, the "fit for use" demands of the very end customer, and desired foam physical properties.
For more information on Fostek's custom profiles, please contact our sales office by phone at 574-284-1000 or
click here
to contact us today!

Fostek In The Community / News
Congratulations to Brad Grohs, Emily Neel, & Caleb Grohs!
A magnificent backdrop & crisp fall morning set the scene for the 3rd Annual National D-Day Memorial Golf Classic.
The 2nd annual Golf Classic to benefit the National D-Day Memorial was held at the Omni Homestead.
The inaugural National D-Day Memorial Golf Classic drew overwhelming support.
The Large Business of the Year award is given to a company of 51 or greater employees that has made a significant contribution to the growth of Bedford.

Member of the Bedford Area Chamber of Commerce since May 17, 2010.