Fostek Corporation Foam Manufacturing Capabilities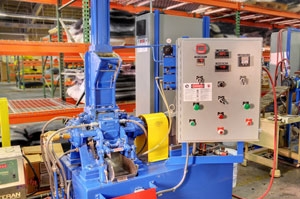 Fostek Corporation foam manufacturing capabilities are continually growing, based on advancing technology, customer specifications and demand. We strive to provide the highest quality engineered foam products, including plastic and rubber blended, closed and semi-closed cell foams in our continuous roll process. Our capabilities include developing and manufacturing closed-cell foams (in rolls and custom profiles) from multiple combinations of plastic and rubber blends of EPDM, PVC/Nitrile Rubber (PVN), and Neoprene blends.
Fostek's facilities and processes are IATF 16949:2018 certified to ensure the highest quality products for automotive related products as well as the rest of our family of non-automotive products that are produced in exactly the same documented process.
Fostek Corporation foam manufacturing capabilities include the extensive experience of our research and development team. Our team is dedicated to listening to the customer's needs in order to develop custom profiles that perform most effectively in the desired applications. We utilize our full development, pilot production lab to do initial trials and testing on new products and custom profiles. This includes all the equipment necessary to run small trials and make adjustments to formulas as necessary with a quick turnaround time.
Fostek engineered foam products are available in continuous rolls ranging in gauge from 3mm thick to 50+ mm thick, in a variety of widths and lengths. The most common widths are a roll of a minimum width of 54 inches and a roll with a minimum width of 27 inches. Our foams offer compatibility with wide varieties of pressure sensitive adhesives (PSA). Acrylic, rubber, butyl tape and other PSAs can be applied to some of these products to meet customer specifications for the high adhesion performance. Depending on certain parameters our foam rubber and neoprene blends are available with skin-two-sides, skin-one-side, and no skin.
In addition, please refer to the list below that includes other Fostek proven capabilitites:
Custom R&D
Continuous Rolls
Sheets
Custom Profiles
Anti-Squeak Coating Application
PSA Profile Lamination
S2S Foam
In-line Skiving/Splitting
Extruded Gauge Range 3mm-50mm+
Testing Lab
IATF 16949:2018
For more information on Fostek Corporation foam manufacturing capabilities, please feel free to call us at 574-284-1000 or
click here
to contact us to discuss your needs.

Fostek In The Community / News
Congratulations to Brad Grohs, Emily Neel, & Caleb Grohs!
A magnificent backdrop & crisp fall morning set the scene for the 3rd Annual National D-Day Memorial Golf Classic.
The 2nd annual Golf Classic to benefit the National D-Day Memorial was held at the Omni Homestead.
The inaugural National D-Day Memorial Golf Classic drew overwhelming support.
The Large Business of the Year award is given to a company of 51 or greater employees that has made a significant contribution to the growth of Bedford.

Member of the Bedford Area Chamber of Commerce since May 17, 2010.