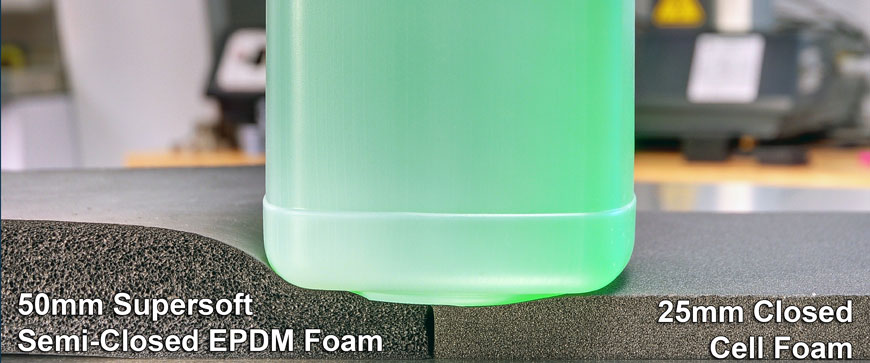 Engineered Foams by Fostek Corporation
Welcome to Fostek Corporation!
Engineered foams by Fostek Corporation are known worldwide for their exceptional quality and outstanding performance across a wide variety of industries and applications. Fostek manufactures very high quality plastic and rubber blended, closed and semi-closed cell foams in our continuous roll process. Our capabilities include developing and manufacturing closed-cell foams (in rolls and custom profiles) from multiple combinations of plastic and rubber blends of EPDM; PVC/Nitrile Rubber and Neoprene blends. Fostek's facilities and processes are IATF 16949:2018 certified to ensure the highest quality products for automotive related products as well as the rest of our family of non-automotive products that are produced in exactly the same documented process.
A primary strength of Fostek and a driver in its growth over the last few years is its ability to "tune-in" foams for specific applications. This is something that our customers use to their advantage whenever possible.
Applications and Markets
Fostek engineered foams are used for automotive, industrial, and construction applications, as well as for athletic and anti-fatigue mat products. Used for thermal and acoustic insulation, gaskets and seals, pipe wrap, UL requirements and more, Fostek foams are manufactured and tested for superior performance and endurance for very demanding environments and conditions. Properties such as moisture sealing, UV and temperature resistance, NVH control, outstanding cushioning, and shock absorption make our foams the choice for numerous applications in which specification adherence, "lot to lot" consistency, and reliable quality is of the utmost importance.
Customers also rely on engineered foams by Fostek Corporation for their custom foam and profile needs. Our team of experienced chemists and technicians are skilled in producing formulas targeted to a broad range of required specifications and new requirements.
Who We Are
We are proud to be a privately held, financially sound, U.S. based company with extensive experience over our 16+ year history, in compounding and developing engineered foams. The high quality of engineered foams from Fostek Corporation is a reflection of our continued commitment to listen to customers and then, if possible, to meet their needs and expectations. The experienced team of dedicated professionals at Fostek is ready and capable of expanding our product offerings once a mutual project scope has been identified and makes sense to both parties. Our ongoing research and development ensures that we continue to improve and optimize our processes, identify new variables and bring them under control, improve the physical properties of our products and reduce costs for our customers.
Our processes are tested and monitored from beginning to end to ensure consistency and quality. The Fostek team's experience and proven ability provides our customers with a trusted resource. We take the time to listen to our customers and understand their needs based on the application, the "fit for use" demands of the very end customer, and desired foam physical properties. We highly value direct communication and strive to provide outstanding customer service for all of our customers.
Thank you for your interest in the engineered foams and profiles from Fostek Corporation. For more information on any of our products, please
click here
to contact us or call our sales office at (574)284-1000.

Fostek In The Community / News
Congratulations to Anna Grohs, Miriam Ramos-Rosales, Caleb Grohs, Emily Neel.
A magnificent backdrop & crisp fall morning set the scene for the 3rd Annual National D-Day Memorial Golf Classic.
The 2nd annual Golf Classic to benefit the National D-Day Memorial was held at the Omni Homestead.
The inaugural National D-Day Memorial Golf Classic drew overwhelming support.
The Large Business of the Year award is given to a company of 51 or greater employees that has made a significant contribution to the growth of Bedford.

Member of the Bedford Area Chamber of Commerce since May 17, 2010.